When it comes to selecting a new SaaS provider, don't just base your decision on whether their software fits your budget. Most SaaS offerings include built-in maintenance, support and upgrades, so you also need to investigate what services each prospective provider promises to supply. That's why home-grown success story MYOB Greentree, has focused so intently on the services it provides with 'Greentree as a Service' (GaaS).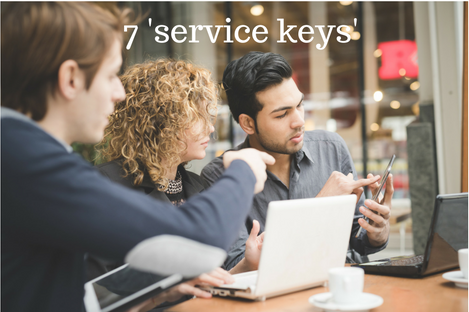 To help you find the right SaaS Provider for your business, Greentree has compiled a definitive list of 7 'service keys' including details of how their services measure up against each one.
1. SYSTEM AVAILABILITY
When your company experiences downtime, every minute will cost you money. So your SaaS provider should guarantee that your system will be online, available and ready to use 99% of the time – at the very least.
How Greentree Measures Up
99% might seem like a high standard to set, but Greentree goes one better by promising 99.9% SaaS availability. They guarantee that if availability drops below that figure at any time, they'll give you a rebate - so it'll cost them too. (In fact, it'll cost them from the moment a potential fault is reported to a Greentree partner to when it's fixed – because Greentree counts downtime 'to the minute').
As with any guarantee, there are a few disclaimers to cover things that are out of Greentree's control, but keeping your business up and running is a commitment that they work very hard to keep.
2. DISASTER RECOVERY
Preparation is what stops a hiccup from becoming a disaster. It's all a matter of how well prepared you are – or in this case, how well prepared your SaaS provider is. Any potential SaaS provider should be able to demonstrate that they're committed to backups and recovery as a standard part of your cloud services.
How Greentree Measures Up
Greentree is so committed to backups and recovery that every GaaS customer automatically gets one of the most advanced data recovery capabilities on the market, Greentree Secure. Depending on your plan and the level of protection your business needs, you'll be able to choose from a range of Greentree recovery options - right through to an instant hot-switch option. Whichever option you choose, Greentree will provide full recovery to the point of failure.
3. DATA INTEGRITY AND OWNERSHIP
One of the most valuable assets of any company is its data, so make sure you retain ownership of yours. Of course, your SaaS provider will need access to your data, but they should also agree that you still own it and be able to claim it back at any time.
How Greentree Measures Up
As far as Greentree is concerned, your data is your data and nothing they do will change that. They'll treat your data as carefully as they treat their own, taking every precaution to protect it and making it as easy and smooth as possible to hand it back to you, whenever you need it.
4. SUPPORT RESPONSE
When it comes to software that's integral to the smooth running of your business, it's crucial to know that support will be there when you need it. So when you're talking to potential SaaS providers, make sure they have an established support system that ensures assistance will be available whenever issues arise.
How Greentree Measures Up
Technical support for GaaS is provided through Greentree Partners and is a constantly monitored, tried-and-true process. If a customer experiences a system or software issue with GaaS, their first step is to immediately report it to their Greentree partner, they also have the option of reporting it via a link on Greentree's website that operates 24 hours, 7 days a week. That notification then goes to Greentree support, the customer's Greentree Partner and Greentree's SaaS platform provider.
5. ESCALATION PROCEDURES
All SaaS providers should have a clear escalation procedure in place - in case they're unable to resolve an issue to your complete satisfaction. They should also offer multiple points of contact.
How Greentree Measures Up
As noted in number 4, as a GaaS customer you should always to turn to your Greentree Partner first. But in the rare event, they're not available, the Greentree website has a link for any GaaS outage that needs an immediate response. And if for any reason a GaaS related issue isn't resolved, Greentree will work closely with you and your Greentree partner to reach a solution.
6. MAINTENANCE COMMUNICATION
All systems need maintenance to keep them up to date and running smoothly. But maintenance entails downtime, so you should be informed well in advance. When considering SaaS providers, ask how they'll communicate their maintenance schedule to you, and what plans they have in place to manage anything other than a standard update.
How Greentree Measures Up
With Greentree, you'll be alerted to standard maintenance at least three days in advance, critical maintenance one day ahead, and emergency maintenance two hours in advance. When it comes to carrying out major upgrades, Greentree will work closely with your administrator ensuring all users are kept well informed. And because GaaS upgrades are such an important part of Greentree's service, they aim to carry one out at least every six months.
7. PRODUCT COMMUNICATION
To make sure you can offer the very best service to your clients, you'll need to be kept fully up to date with all new products on offer. Make sure you establish how potential SaaS providers intend to keep you in the loop about new product features and product release notes.
How Greentree Measures Up
Greentree provides a free online training portal to every Greentree user. As well as providing comprehensive training and resources, the campus also delivers all the latest product releases and features.
ASKING THE RIGHT QUESTIONS
With these 7 keys, you'll be armed with all the questions you need to ask potential SaaS providers. Once you've established that their software fits your budget – use these keys to establish what services, support and communication they offer as part of the package. Doing so could mean the difference between software that boosts your business, and software that ends up costing you time, money and stress.
Greentree has ensured that any service promises they make, are promises they can keep. So, if you choose GaaS, there won't be any nasty service surprises – because the software will always be there when you need it.
For more information get in touch with the team at Endeavour, we'll be happy to help.