unleash your intuition...
You've probably heard of the leading business discovery tool, QlikView, but if you haven't seen it in action for yourself, perhaps you're wondering what all the excitement is about? Well, at Endeavour we've been helping clients enjoy the many benefits of QlikView for over 7 years – and we see first hand just what a difference it can make to businesses just like yours.
Over the last two years, Qlik has been developing and working on its second generation product under the name of QlikView.Next.
QlikView.Next aptly describes a project to re-think self-service Business Intelligence. The project goal is to dramatically improve the ease-of-use for creating rich, next-generation visualisations that expose the power of the Qlik high-performance associative data indexing engine, resulting in significantly broader adoption across organisations.
Qlik Sense Desktop lets get started!
Qlik are launching Qlik Sense Desktop, the first commercially available release from the QlikView.Next project. Qlik Sense Desktop is a free version that delivers data visualisation, exploration and storytelling capabilities in a stand alone, installed Windows application.
Qlik Sense Desktop is now available for download for users all over the world! We invite you to download Qlik Sense Desktop and experience rapid, interactive visualisations, reports and dashboards.
Click on this link to down load Qlik Sense Desktop.
Experience Qlik Sense for yourself by trying some of the new demos.
Sales & Customer Analysis Executive Dashboard Sales Discovery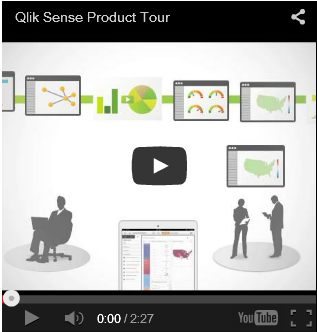 Anyone can easily create personalised data visualisations, reports & dashboards.
With Qlik Sense, users at any level can bring their insights to life - no scripting required.
Drag-and-drop techniques allow anyone to create compelling visualisations
Built-in library lets you share and reuse of data, metrics and objects
Progressive creation lets you keep it as simple — or sophisticated — as you like
QlikSense capabilities
Multiple data sources from simple Excel files to ODBC accessible databases can easily be brought into the Qlik Sense app.
Drag-and-drop dashboard creation in minutes to build or extend visual analysis.
Explore, associate, and combine information in new ways not possible in other products without starting over to create a new visualisation. Because it is powered by the Qlik data indexing engine and associative experience, users can dynamically explore and ask any question.
Smart Search to simply type words or numbers to begin analysis of the entire data set.
Intuitive Smart Visualisations offer cues to help novices explore patterns by dynamically updating and highlighting new information and associations.
Data Storytelling to capture insights and share at a point in time in presentation format. Users can add commentary and narrative and drill down directly from the presentation to Qlik Sense data to answer questions on the fly.
Isn't it about time your data made sense?
For more information on what makes QlikView unique contact us at Endeavour on 0800 422 272