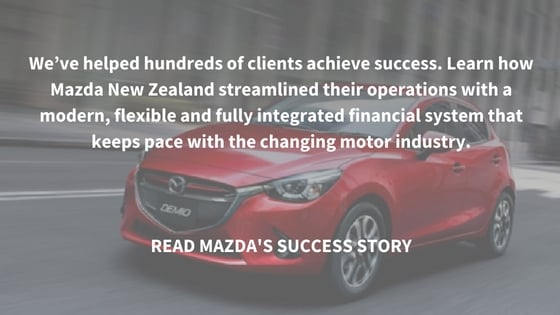 Performing Better Than Ever!
"At Mazda New Zealand, We Consider The Relationship With Endeavour To Be A Partnership Rather Than A Customer / Supplier Relationship. The Partnership Has Been Built On Trust And Continues To Strengthen Each Year."
David Hodge, Finance Manager – Mazda New Zealand
Mazda New Zealand is a story of both growth and change. When Mazda opted to build its own parts management system it had five months to turn an empty building into a warehouse, train staff, and implement a business system that would fit their needs.
Today Mazda's local warehouse carries 25,000 lines, with access to 55,000 lines in Australia and a further million lines available out of Japan. As parts are dispatched to dealers, Greentree processes the invoices and sends alerts for any re-stocking. Through Webstore, dealers are able to replenish their stock requirements and according to National Parts Manager, Brett Todd "If you can place orders with Amazon.com is any another online shop-style website you can place orders with us.
'From our perspective the systems that we have implemented here allow us to run our business in a fast and efficient manner, which is critical to its success nowadays. The system does what it needs to do, it has the flexibility of doing more, which means our businesses is set for the future." says Brett Todd.
"We're not having to look around potentially other systems, we can make continuous improvements.
In the end, it is all about moving stock from one point to the next in the quickest possible and most efficient manner. "he says "With the help of Endeavour we believe we've created a distribution product that can be a model for the automotive industry and for other businesses.'
"Our key indicators show that we're performing better than ever." Adds David Hodge, Mazda's CFO
For more success stories read here >>>
Endeavour's ebook/distribution>>>