A new eBook that explains how NZ Not-for-profits can harness technology to improve financial controls, visibility and reporting.
In 2017, the New Zealand Cause Report was published following a deep dive into the shape of the charity sector in New Zealand which highlighted the vital role it plays in the wellbeing of NZ society. According to the report, almost 80% of the 40 largest New Zealand charities have existed for more than 20 years. The number continues to grow, with a ratio of one organisation to every 170 people.
The report also suggests that for the sector to retain its effectiveness, it needs to evolve at a faster rate, with a focus on where organisation funding is sourced, and how it's used.
When it comes to financial reporting for Not-for-profits (NFPs), there are a number of challenges to be met. This is because the reporting structure for most NFPs is very complex, since they're often made up of multiple divisions, projects, initiatives and activities. Some of the main challenges include:
Overseeing many functional areas - the CFO of a NFP is often required to wear many hats, and have a comprehensive understanding of multiple financial areas - especially now, with increased scrutiny and strict government regulations
Juggling strategy and operations - it's not just about crunching numbers. NFPs need to identify ways to handle their financial reporting more efficiently and that requires strategy
Governance - the NFP culture contains several unique factions, including active boards, funders, the public and press, and regulatory agencies, not to mention clients and suppliers
IT - an increasing need to harness technology to maintain the integrity of any NFP's financial infrastructure
Funding - a NFP often has unique revenue sources. These include public support by individuals, corporations, and government, and each comes with its own set of regulatory challenges
Compliance and regulations - compliance is predicated on the need to produce accurate and complete records, which are presented to the government, stakeholders, potential funders and philanthropic trusts
What this means is NFPs need to be able to produce:
Complex financial statements
Cash flow statements
Evidence of compliance with the financial policies of the organisation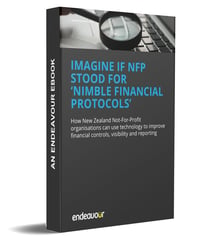 It's with that in mind that we've developed a new eBook: Imagine if NFP stood for 'Nimble Financial Protocols', which looks at how NFPs can gain a clear financial perspective, enabling them to run their operations more efficiently while meeting statutory reporting requirements.
The eBook covers five main areas:
NFPs - an essential component of NZ society
An introduction to the charity sector of NZ, including an outline of how they are monitored by government agencies such as Department of Internal Affairs (DIA) Charities Services and the External Reporting Board (XRB).
Challenges of financial reporting for NFPs
This section looks at why financial reporting is so complex for NFPs, as well as why transparency across all financially-related activities is essential.
Hampered by technology
The consequences of using outdated or overly complicated systems, and why they're not robust from an audit point of view.
Enterprise Resource Planning solutions that support NFPs
What to look for in an enterprise resource planning (ERP) system, and why investing in one enables NFPs to not only meet reporting challenges, but also helps their staff to gain efficiencies and become more productive.
MYOB Advanced – a Not-for-profit-friendly solution for financial management
A look at the MYOB Advanced ERP - the benefits of this cloud-based ERP system which is transforming financial reporting for large Kiwi NFPs.

Like all industries, organisations within the NFP sector need to embrace digitisation and move their business management processes into the modern era. The combination of the right ERP system and implementation partner will help NFPs maintain an audit trail and account for every public or donation dollar, becoming more transparent and reliable. It will also ensure that stakeholders are engaged and informed. The accuracy, efficiency and productivity gains not only ensure NFPs can meet high audit standards, but will better deploy staffing resources.